Behavioral Health & Human Services
"Students in the Behavioral Health and Human Services (BHHS) program will learn to advocate for individuals of all ages who are disabled, vulnerable, or underserved. [They] will focus their studies on providing support in a variety of health, human services, and education settings. [Studies center around] human development and behavior, common conditions & disabilities, and the impact of environmental stressors and positive supports". (Source: https://www.alextech.edu/programs/behavioral-health-human-services)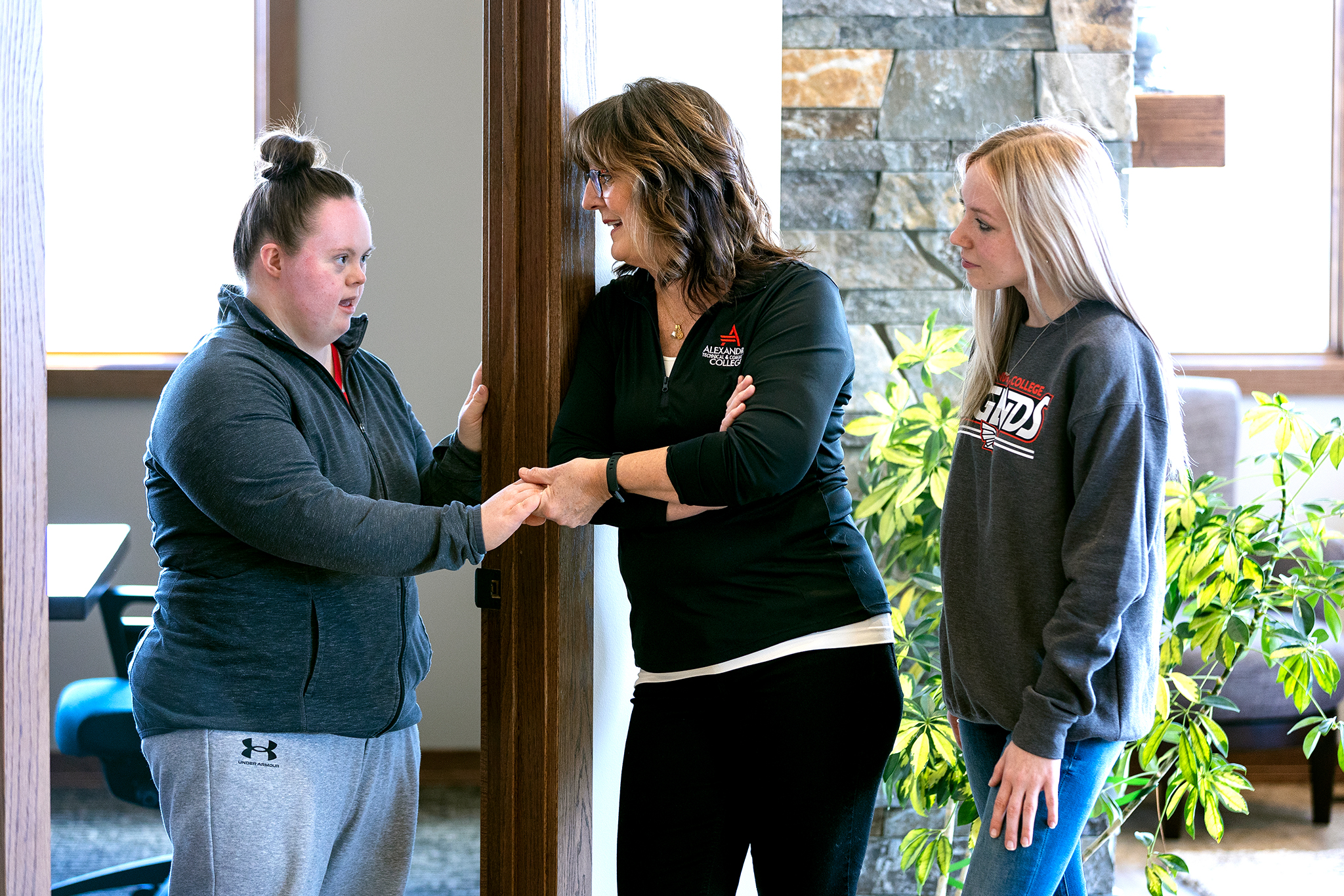 Image Description: Three people sitting around a white desk in a classroom-like space. On the left is the profile angle of a woman with a brown pixie cut and highlights wearing a white and navy blue zigzag striped shirt. She is looking at and leaning slightly towards the other two people with her arms out on the desk in front of her. In the middle of the image is a woman with longer blonde hair in a red, white, and blue graphic t-shirt. On the right is a younger girl with shoulder-length strawberry blonde hair in an emerald green T-shirt and wearing a watch on her left wrist. The girl has her arms stretched out into the middle of the table and she appears to be trying out a black e-reader device. In the image background there are more white tables with muted blue chairs, a small bookcase, a desk podium, and windows through which a sunny day can be seen outside.
This guide includes resources relevant to the ATCC Behavioral Health & Human Services program. For more information about the ATCC Behavioral Health & Human Services Curriculum, check the current curriculum descriptions here: https://www.alextech.edu/programs/behavioral-health-human-services/curriculum
Academic Search Premier
This multi-disciplinary database provides active full text for more than 3,100 journals, including active full text for nearly 2,750 peer-reviewed journals.

American Public Human Services Association (APHSA)
The American Public Human Services Association (APHSA) supports leaders from state, county, and city human services agencies to advance the well-being of individuals, families, and communities nationwide. As a bipartisan membership association, we work with our members to generate pragmatic solutions grounded in lived experience with a lens for equity and belonging.

APHSA members administer, oversee, and align programs that build resilience and bolster family well-being through access to food, health care, housing, employment, child care, and many other key building blocks necessary for thriving communities. Our members also work to modernize and align human services Information Technology (IT) systems, performance measurement and data analysis, workforce development and training, and the legal dimensions of the field.

CINAHL Plus Full Text
CINAHL Plus® with Full Text is a robust collection of full text for nursing & allied health journals, providing full text for more than 770 journals indexed in CINAHL®. This authoritative file contains full text for many of the most used journals in the CINAHL index, with no embargo. CINAHL Plus with Full Text is the core research tool for all areas of nursing and allied health literature. Full text coverage dates back to 1937.

Consumer Health Complete
Consumer Health Complete is a comprehensive resource for consumer-oriented health content. It is designed to support patients' information needs and foster an overall understanding of health-related topics. Consumer Health Complete provides content covering all areas of health and wellness from mainstream medicine to the many perspectives of complementary, holistic and integrated medicine. In addition, Consumer Health Complete includes the Clinical Reference System and the Lexi-PAL Drug Guide, which provides access to up-to-date, concise and clinically relevant drug monographs. The database is updated on a weekly basis.

Consumer Health Reference eBook Collection
This ebook reference collection offers a rich selection of eBook titles covering a broad range of general health topics, including disease such as cancer and diabetes; weight management and exercise; allergies; senior care; social emotional health; developmental disorders; and natural health.

MedlinePlus
MedlinePlus is an online health information resource for patients and their families and friends. It is a service of the National Library of Medicine (NLM), the world's largest medical library, which is part of the National Institutes of Health (NIH).

Minnesota Department of Human Services
The Minnesota Department of Human Services (DHS) helps provide essential services to Minnesota's most vulnerable residents. Working with many others, including counties, tribes and nonprofits, DHS helps ensure that Minnesota seniors, people with disabilities, children and others meet their basic needs and have the opportunity to reach their full potential.

Society of Behavioral Medicine (SBM)
SBM is a nonprofit organization composed of researchers, clinicians, educators, industry professionals, and policymakers from more than 20 healthcare disciplines. They focus on behavioral, psychosocial, environmental, and biomedical theory, knowledge, and interventions relevant to health and disease.
SBM members conduct research on conditions such as cardiovascular diseases, respiratory diseases, obesity, diabetes, chronic pain, and cancer. They conduct research on specialty populations like children, women, veterans, aging adults, and minority groups. And they conduct research on clinical care and healthcare delivery, from in-person appointments to telemedicine and health apps.
SBM members then use research findings to improve their own clinical practice and the lives of their patients. They also use research findings to improve public health policies and to make healthcare cheaper and fairer. They do this through individual work and in strategic partnerships with community groups, corporations, government entities, legislators, and other professional organizations.
U.S. Department of Health and Human Services (HHS)
The mission of the U.S. Department of Health and Human Services (HHS) is to enhance the health and well-being of all Americans, by providing for effective health and human services and by fostering sound, sustained advances in the sciences underlying medicine, public health, and social services.
The
ATCC Library
is
located in Room 707
(700 building).
Email:
library@alextech.edu
Phone:
888-234-1222, ext. 4465, or 320-762-4465
For
24/7 Library Help
, go to
https://askmn.org/academic
The 24/7 live chat is for general help only. For questions related specifically to your ATCC Library account, or ATCC Library resources, please contact us directly via the phone or email options listed above.