Welcome to the DCTC Library's Accounting subject guide. On this page you will find helpful information about the research and writing process, including links to help you evaluate and cite your sources.
The 2nd page has information about the resources in our library and how to find them using our catalog.
The 3rd page is a gateway to the Library's best online resources and web sites for this course, including some tutorials for these resources.
Let's get started!
Abraham Lincoln famously said you shouldn't believe everything you read online. And 82% of all statistics are made up.
There's a lot of misinformation out there. Digital literacy expert Mike Caulfield developed the SIFT method to help students evaluate information and make better decisions about what sources to trust:
Stop
Investigate the source
Find better coverage
Trace claims, quotes, and media to the original context
Here are more guides to help you evaluate sources of information:
There are different styles for citing the sources you use in your assignments, but writing for English and the humanities usually requires MLA (Modern Language Association) style. The Purdue Online Writing Lab has an excellent guide to using MLA style, with lots of examples:
You can also go straight to the source:
Our catalog and databases provide citations for the books, videos, and articles you find in them. Just look for a link that says Cite or Citation, then select MLA style. It's easy to copy and paste citations into your bibliography!
"Plagiarism includes, but is not limited to, the use, by paraphrase or direct quotation, of the published or unpublished work of another person without full and clear acknowledgment. It also includes the unacknowledged use of materials prepared by another person or agency engaged in the selling of term papers or other academic materials."
This definition of plagiarism comes from page 1 of DCTC's Student Code of Conduct.
Citing your sources like this or in a bibliography is an essential part of the research process. It allows others to verify your information and gives credit to previous researchers and writers for their work.
The Center for Student Success offers tutoring to all DCTC students, including help with writing your paper and citing your sources. You can schedule an appointment by calling 651-423-8420 or visiting room 2-101.
Use our catalog, OneSearch, to find the books and videos on our shelves, plus ebooks and streaming videos.
The best way to begin your search is to enter one or two keywords on your topic. To narrow your results, use the Modify My Results options on the left side of the screen. You can also click on a relevant title and click on one of its subject headings to focus your search on that particular topic.
Please ask a librarian if you need help locating anything you find in our catalog.
If we don't have the book, video, or article you're looking for, you can request it via interlibrary loan (ILL) and it will come to you. It's easy! E-mail library@dctc.edu to let us know what you're looking for and we'll do the rest.
Our collection is organized by Library of Congress call numbers. If you like to browse, most books about accounting are shelved in the HF5601-5716 call number range. Ask a librarian if you need help finding anything.
Here are just a few of our books about accounting:
Behind the circulation desk we have our Course Resources collection. This includes books and videos that instructors have asked us to reserve for certain classes. Some of these can be checked out for two hours or overnight but others must be used in the Library. Ask a librarian if you're looking for one of these.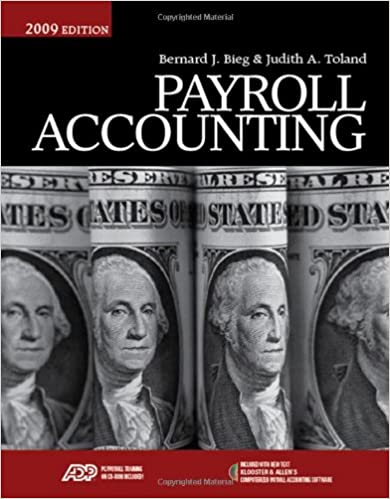 LinkedIn Learning, formerly known as Lynda.com, offers thousands of self-paced video courses and tutorials.
Logging into LinkedIn Learning is a little different from our other online resources. You'll still need your StarID, but if you're a DCTC student you'll use the username ab1234cd@go.minnstate.edu, replacing ab1234cd with your actual StarID. DCTC employees should do the same, except with the username ab1234cd@minnstate.edu.
Once you've logged into you LinkedIn Learning account, you can browse or search for courses and tutorials. I recommend clicking on the Browse button at the top of the screen, then selecting from the categories under Finance and Accounting. You'll find many hours of content.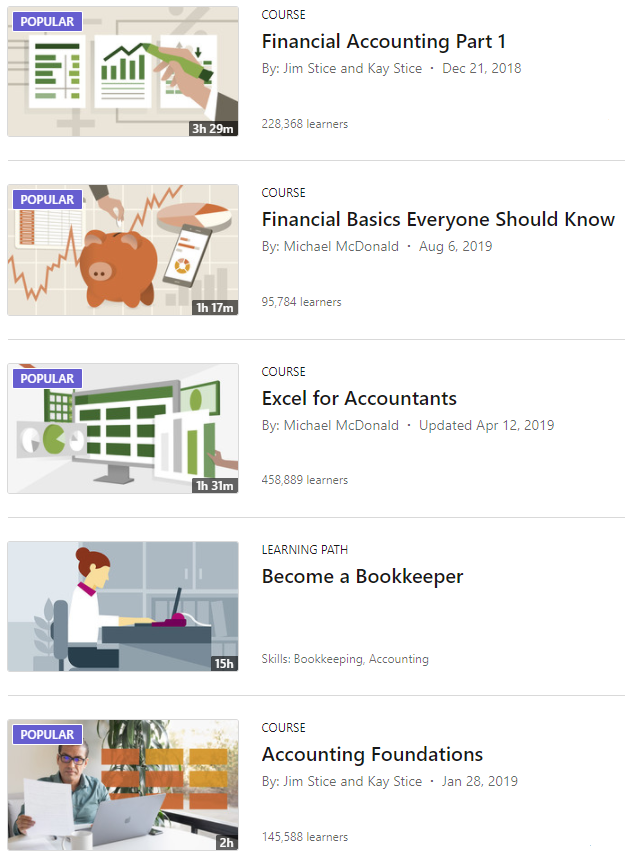 Here are just a few of the accounting ebooks you'll find in our EBSCO eBook Collection: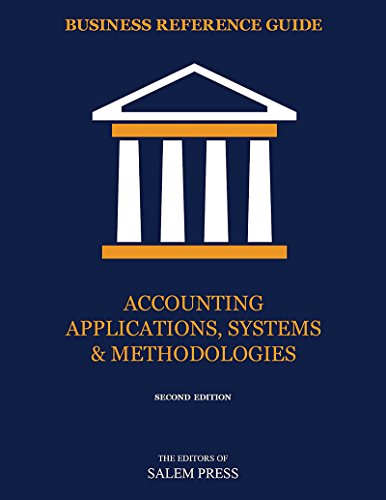 Accounting Applications, Systems & Methodologies, 2nd ed.
Salem Press, 2017
Short Introduction to Accounting
Richard Barker, 2011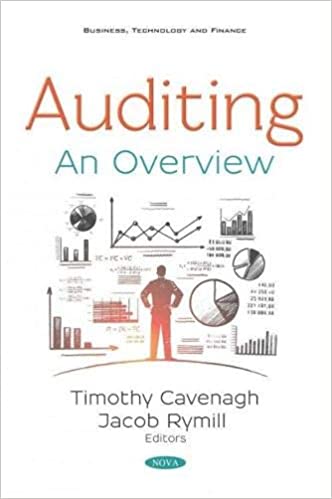 Auditing: An Overview
Jacob Rymill, 2019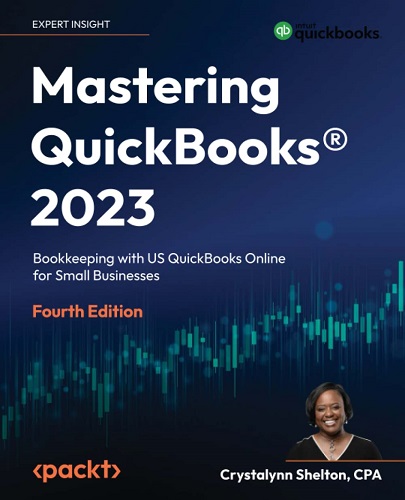 Mastering QuickBooks 2023
Crystalynn Shelton, 2022
Here are the ebooks about accounting you'll find in Wiley Online Library: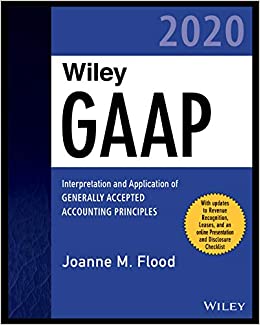 Wiley GAAP 2020: Interpretation and Application of Generally Accepted Accounting Principles
Joanne M. Flood, 2020
Wiley GAAP for Governments 2020: Interpretation and Application of Generally Accepted Accounting Principles for State and Local Governments
Warren Ruppel, 2020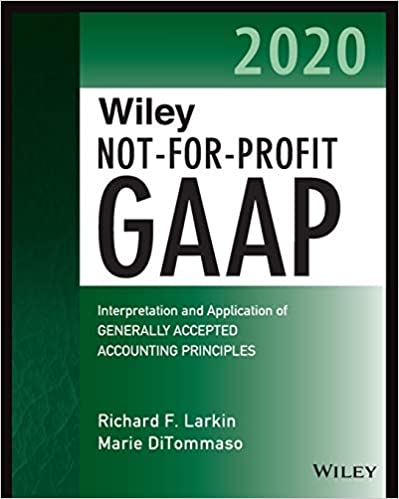 Wiley Not-for-Profit GAAP 2020: Interpretation and Application of Generally Accepted Accounting Principles
Richard F. Larkin, 2020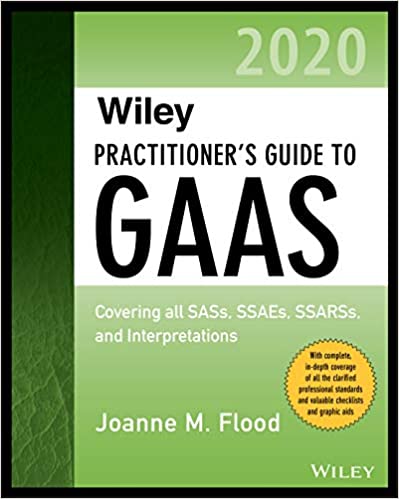 Wiley Practitioner's Guide to GAAS 2020: Covering all SASs, SSAEs, SSARSs, and Interpretations
Joanne M. Flood, 2020
Check out our Accounting board on Pinterest! Feel free to send us pins that you think would benefit the DCTC community and check back often!