---
All current students, staff and faculty can register for a free digital campus subscription to the New York Times.
Create your free NYT campus subscription:
***If you have previously created a personal nytimes.com account, we recommend logging out of your account on the NYT webpage or clearing your browser's cache/cookies before activating your campus subscription.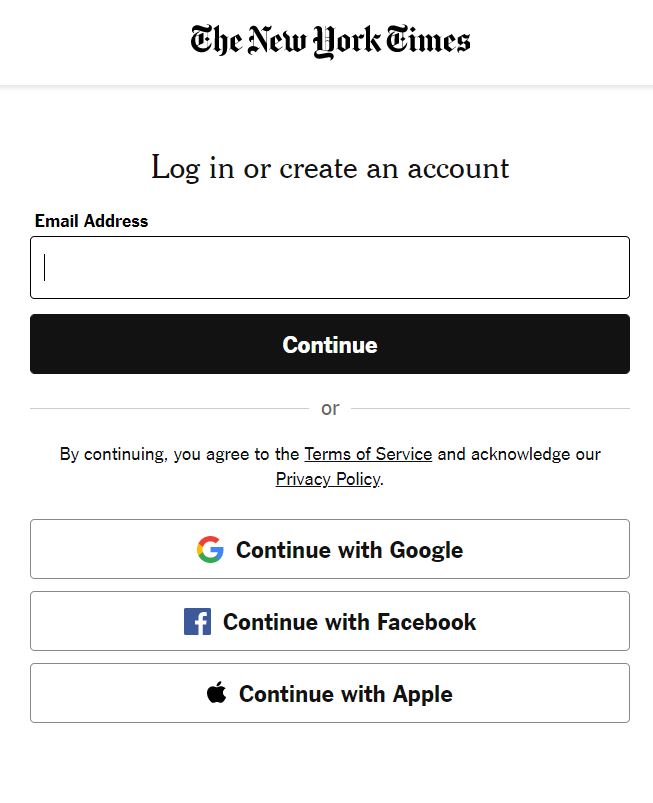 Go to the NYT registration page: http://fdlproxy.mnpals.net/login?url=https://ezmyaccount.nytimes.com/grouppass/redir (if creating your account off campus, you will be prompted to sign in through the ezproxy using your Star ID and password).
Click the blue Create Your Account button, enter your campus email address, then click Continue
Enter a password of your choice, then click Create My Account.
You should get a confirmation page with a blue Go to NY Times button. Click the button to access the NYT site. (If the button does not reroute you to the full site, go to nytimes.com and click the login link on the upper right hand side of the page.
You should now have full access to the NYT page and access to download the NYT mobile app.
---
All current students, staff and faculty can register for a free digital campus subscription to the Wall Street Journal.
Create your free WSJ campus subscription: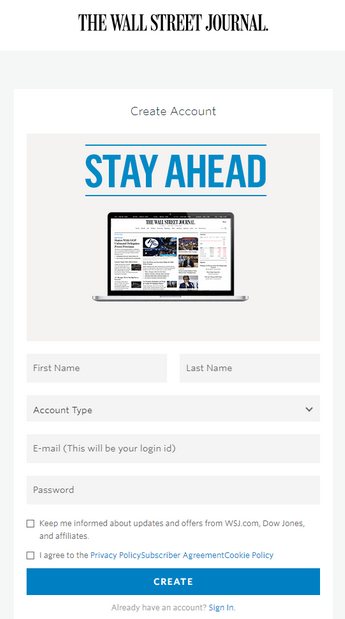 Go to the WSJ registration page: https://www.wsj.com/FDLTCC
Choose your account type from the drop-down menu (Student, Staff, or Professor)
Enter your first and last name and your

FDLTCC email address (@s.fdltcc.edu)

.
For students, enter your graduation date
Create a password of your choice
Check the box: "I agree to the Privacy Policy, Subscriber Agreement, Cookie Policy"
Click the blue CREATE button
After you register, immediately login to the Wall Street Journal at https://www.wsj.com/ to verify your email address (it may take a few minutes to receive the verification email).
Once you verify your email address you will have full access to the WSJ.com website and you can download the WSJ mobile app.
Student accounts remain active until graduation.
Faculty and staff will need to validate their subscriptions once per year.
Physical Periodical Subscriptions
The following physical journals, magazines and newspapers are available in the library.
Newspapers
Anishinaabe Today
Bois Forte News
Duluth News Tribune
The Circle
Indian life
Mazina'igan
Pine Knot
Pine Journal
Star Tribune
Popular Magazines
Discover
Minnesota Conversation Volunteer
National Geographic
National Wildlife
Natural History
Science
Scientific American
Scholarly Journals
Boundary Water Journal
Orion
ProQuest U.S. Newsstream
U.S. news content as well as archives that stretch back into the 1980s from national and regional news sources including The New York Times, the Wall Street Journal, Washington Post, Los Angeles Times, Boston Globe, Newsday, Chicago Tribune and the Minneapolis Star Tribune.
These databases contain both news sources and higher level academic journals
Tips:
You can narrow your search to find news sources by selecting "Magazine" or "Periodical" in the Publication Type menu on the home screen.
Some articles are only available as abstracts.
Check the Full Text box under Limit Your Results
to only return results that give you access to the full article.
Applied Science & Technology Source (EBSCO)
Offers a diverse array of full-text and indexed content covering the full spectrum of the applied sciences and computing disciplines — from acoustics to aeronautics, neural networks to nuclear engineering.
GreenFILE (EBSCO)
This comprehensive resource draws on the connections between the environment and a variety of disciplines such as agriculture, education, law, health and technology. Topics covered include global climate change, green building, pollution, sustainable agriculture, renewable energy, recycling and more.
ScienceNews:
Founded in 1921 as an independent, nonprofit source of accurate information on the latest news of science, medicine and technology. Published by the Society for Science, a nonprofit 501(c)(3) membership organization dedicated to public engagement in scientific research and education.
ScienceDaily
:
Features breaking news about the latest discoveries in science, health, the environment, technology, and more -- from leading universities, scientific journals, and research organizations.
EurekAlert!: A nonprofit news-release distribution platform operated by the
American Association for the Advancement of Science
(AAAS) as a resource for journalists and the public. EurekAlert! hosts news releases produced by universities, journal publishers, medical centers, government agencies, corporations, and other organizations engaged in all disciplines of scientific research.

RealClearScience: D
aily-curated aggregator of news articles including opinion pieces, videos, polls and original content.