---
All current students, staff and faculty can register for a free digital campus subscription to the Wall Street Journal!
Create your free WSJ campus subscription: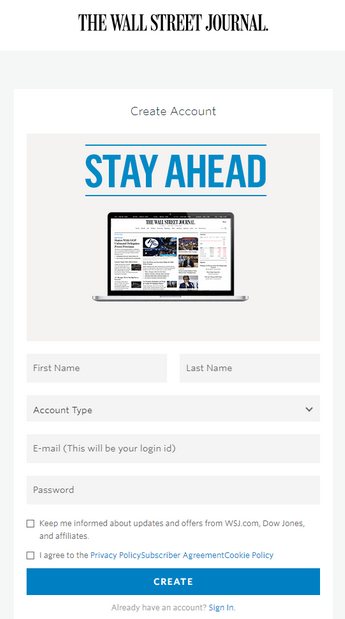 Go to the WSJ registration page: https://www.wsj.com/FDLTCC
Choose your account type from the drop-down menu (Student, Staff, or Professor)
Enter your first and last name and your

FDLTCC email address (@s.fdltcc.edu)

.
For students, enter your graduation date
Create a password of your choice
Check the box: "I agree to the Privacy Policy, Subscriber Agreement, Cookie Policy"
Click the blue CREATE button
After you register, immediately login to the Wall Street Journal at https://www.wsj.com/ to verify your email address (it may take a few minutes to receive the verification email).
Once you verify your email address you will have full access to the WSJ.com website and you can download the WSJ mobile app.
Student accounts remain active until graduation.
Faculty and staff will need to validate their subscriptions once per year.
Student Hub
This dedicated site for students provides curated sections on job-hunting, professional development, work/life balance and personal finance tips.
Noted Advisors
With over 40K members, the WSJ Noted Advisers Network provides students and recent graduates an opportunity to network with young professionals and some WSJ journalists.
Future View
A new WSJ Opinion series that showcases student opinions on timely and important topics. The goal of this series to to surface a a range of views and allow students the oportunity to contribute to the national conversation.
WSJ Podcasts
The Wall Street Journal Online offers a range of daily and weekly podcasts, covering top headlines and including interviews with reporters and editors.
Saving and Sharing Articles
Use the save tool to save articles you want to access later. Saved articles can be found in your account drop down menu by clicking your name in the upper right hand corner of the screen.
Click the permalink icon to copy the article's permanent url. If on the mobile app, look for this icon:
Accessibility Features
Wall Street Journal provides some helpful accessibility features for students:
***For best compatability with these resources we recommend using the Edge, Firefox or Safari browsers.
Adjust the text size in the article. Choose between small, medium and large.
Most Wall Street Journal articles include an audio transcription of the text. You can play and pause the audio, and adjust the volume and speed.
Frequently Asked Questions
How do current students, staff and faculty activate their account?
Current students, staff and faculty can activate their account using their campus email address by following the instructions found in the "Create Your Account" tab found in this library guide.

How long will my WSJ access last?
Students have access to Wall Street Journal until their graduation date. Staff and faculty will re-register their accounts once per year.

What if I already have a personal subscription to the Wall Street Journal?
If you already have a personal WSJ account and would like to cancel it after switching to the campus subscription, please call 1-800-JOURNAL to speak with WSJ membership services.

What is included in the WSJ campus subscription?
The FDLTCC campus subscripiton gives you unlimited access to wsj.com and the WSJ mobile app. You also have access to additional WSJ content including videos, podcasts and newsletters.

How far back does does the WSJ content go?
The WSJ online makes the last four years of content available, updating on a rolling basis.