BrowZine - Business
Browse through the Business Journals. You can select subcategories if needed. They are sorted by journal ranks (the more prestigious journals are listed first). Note: Many journals have embargo periods which limits when we can access the newest articles. These are noted by a lock symbol. Contact a librarian if you would like access to one of the articles with that symbol. 
Business Source Premier
Articles from business journals and magazines, company profiles with SWOT analyses, and industry reports.
Business (Gale OneFile)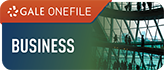 Articles from business newspapers and trade publications on accounting, economics, finance, and marketing.