Academic Search Premier

Academic Search Premier is a multi-disciplinary database designed specifically for academic institutions. It includes articles from academic journals, popular magazines, and major newspapers.
Academic OneFile (Gale)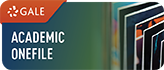 Academic OneFile offers sources on a wide range of topics from scholarly journals and magazines and newspapers.
JSTOR

JSTOR contains hundreds of scholarly journals from all disciplines. Full text coverage varies by journal.
Article Databases by Subject
All of the library's online collections, organized by subject.
Research is a process. You probably won't find everything you need on the first try. You may have to try several of these databases and search options mentioned above to find all the information you need.

If you have trouble finding sources on a topic, try:
Searching with different keywords
Look in a different database
Choosing a Manageable Topic
Choosing and Using Keywords