Helpful Keywords for Your Searches
While searching for your topics, these keywords might be helpful to add to your searches:
Students with Disabilities
At Risk Students
Academic Accommodations
Academic Support Services
Testing Accommodations
Assistive Technology
Special Education
Gifted Education (NOTE: ERIC started using this term in 2019. Before that, articles about this topic Were included under "Special Education")
Equal Education
Inclusion
Mainstreaming
ERIC (EBSCOhost)

The largest database of articles on education topics.
Educator's Reference Complete (Gale OneFile)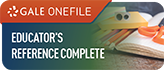 A selection of articles and reports on education topics.
Academic Search Premier + MegaFILE
Search these two multi-disciplinary databases at once to find even more articles from academic journals, popular magazines, and major newspapers.
NOTE:
If you would like to look at specific titles about education psychology, you can browse or search these titles at the following links:
Research is a process. You probably won't find everything you need on the first try. You may need to do multiple searches or read some background information about your topic before continuing to search.
If you can't find much on your topic, try different keywords. Using synonyms or broader and related terms can help you find more articles. As you research, be on the lookout for new keywords to use.
Developing Keywords
(From Monroe Community College)
What is Peer Review?
(From Deakin University)